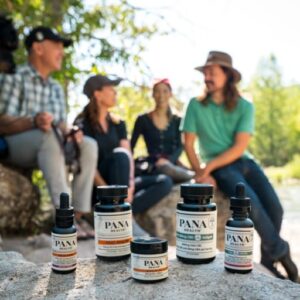 Get paid to share what you love!
As a Panacea Brand Ambassador, when you promote your favorite Panacea products on your business website or social media pages, you'll get rewarded for all referral sales.
At Panacea Life, We're always searching for people who want to get behind our cause and be positive brand ambassadors for our brand and products.
Our Brand Ambassador Program is created to provide you with a risk-free way to profit from the fast developing CBD market by providing your followers with high-quality CBD products. The program offers tremendous earning possibilities for its ambassadors, with a 15% commission that is paid out monthly.
What exactly is an ambassador? The program can be whatever you need it to be. As simple as Refer-a-Friend, promote us on social media or even sell business to business. You get out what you put in! You receive a commission or a portion of the sale for every sale you refer to our site. There is no initial investment required; only opportunities are available.
Free — The partnership is completely free. You'll pay nothing to become an ambassador.
Discounts — We offer discounts to your followers to increase your clicks and purchases.
Easy to Start — We will show you exactly what to do.
Education — Get  free continued education on CBD and how CBD and other cannabinoids can help you and your friends.
Becoming a Brand Ambassador is Simple
Step 1. You must log or create a Panacea Life account here or at the top of the screen before you proceed to become an ambassador.
Step 2. Click the trophy in the bottom right of this screen to sign up!
Step 3. An email will follow with further instructions along with your referral code and a personal web page you can use to spread your message!
If you have a question, we would love to answer it. Just email our director of sales at [email protected]. We hope to partner with you!
Ambassador Login/Signup
If you are logged in to your account, look in the bottom right corner of the webpage for the ambassador button (like you see pictured to the right).